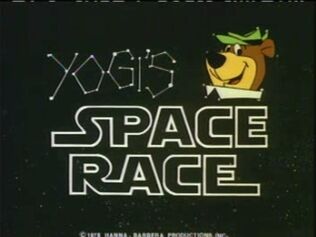 Yogi's Space Race was a 90-minute NBC Saturday morning cartoon that aired from September 9, 1978 to March 3, 1979.
The show featured four segments:
Yogi's Space Race: Yogi Bear, Huckleberry Hound, Jabberjaw and several new characters participating in intergalactic racing competitions.
Galaxy Goof-Ups: Yogi Bear, Scare Bear, Huckleberry Hound and Quack-Up as four intergalactic police officers.
The Buford Files: Buford is a sleepy bloodhound who solves mysteries in Fenokee County with two teenagers, Cindy Mae and Woody.
The Galloping Ghost: Nugget Nose is a ghost miner who is a guardian to Wendy and Rita, who work at the Fuddy Dude Ranch.
Voice Cast
Edit
Daws Butler: Yogi Bear, Huckleberry Hound, Quick Draw McGraw
Joe Besser: Scare Bear
Mel Blanc: Quack-Up
Frank Welker: Jabberjaw, Buford, Nugget Nose, Captain Good/Phantom Phink, Clean Kat/Sinister Sludge
Marilyn Schreffler: Wendy
Pat Parris: Rita, Cindy Mae
Dave Landsburg: Woody
Henry Corden: Sheriff Muletrain
Roger Peltz: Deputy Goofer McGee
Hal Peary: Fenwick Fuddy
John Stephenson: Captain Snerdley & General Blowhard
Gary Owens: The Narrator
Ad blocker interference detected!
Wikia is a free-to-use site that makes money from advertising. We have a modified experience for viewers using ad blockers

Wikia is not accessible if you've made further modifications. Remove the custom ad blocker rule(s) and the page will load as expected.