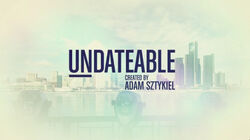 Undateable is an American comedy television series. It premiered on May 29, 2014, airing mid-season on NBC as part of the 2013–14 American television season. The multi-camera comedy was created by Adam Sztykiel and is based on the book Undateable: 311 Things Guys Do That Guarantee They Won't Be Dating Or Having Sex by Ellen Rakieten and Anne Coyle. On July 31, 2014, Undateable was renewed for a ten-episode second season, which premiered on March 17, 2015.
Danny Burton is a 30-ish carefree single guy who has watched most of his friends move on to serious relationships. When his last remaining friend Shannon moves out to get married, Danny searches for a new roommate. A promising candidate is Justin, the owner of Black Eyes Bar (frequently mispronounced "Black Guys Bar") in the Detroit suburb of Ferndale.
Justin and his friends – the creepy Burski, oddball Shelly, and recently out-of-the-closet gay guy Brett – all have certain qualities that make them appear "undateable". While Danny himself has good luck getting women into bed, he is unable or unwilling to form a lasting commitment with any of them. Danny's attractive sister, Leslie, has similar fears about being undateable, having the "baggage" of being a mid-30's divorcee.
Chris D'Elia as Danny Burton
Brent Morin as Justin Kearney, Danny's roommate.
David Fynn as Brett, Justin's employee and friend.
Rick Glassman as Burski, Justin's friend.
Ron Funches as Shelly, Justin's friend.
Bianca Kajlich as Leslie Burton, Danny's sister.
Bridgit Mendler as Candace (Season 2), Justin's new bartender.[8]
Ad blocker interference detected!
Wikia is a free-to-use site that makes money from advertising. We have a modified experience for viewers using ad blockers

Wikia is not accessible if you've made further modifications. Remove the custom ad blocker rule(s) and the page will load as expected.