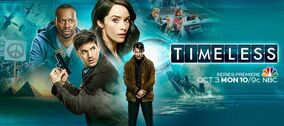 Timeless is an NBC network sci-fi drama series created by Shawn Ryan and Eric Kripke which premiered on October 3, 2016.
On November 1, 2016, NBC ordered 3 additional episodes, increasing the first season order to 16 episodes.
The show is about the adventures of history professor Lucy Preston (Abigail Spencer), scientist Rufus Carlson (Malcolm Barnett) and soldier Wyatt Logan (Matt Lander) as they attempt to stop criminal Garcia Flynn (Goran Višnjić) from changing the course of American history through time travel.
Main Cast
Abigail Spencer as Lucy Preston
Matt Lanter as Master Sergeant Wyatt Logan
Malcolm Barrett as Rufus Carlin
Sakina Jaffrey as Special Agent Denise Christopher
Paterson Joseph as Connor Mason
Claudia Doumit as Jiya
Goran Višnjić as Garcia Flynn
Recurring Cast
Matt Frewer as Anthony Bruhl
Susanna Thompson as Carolyn Preston
John Getz as Rittenhouse Agent Benjamin Cahill
Chad Rook as Karl
Annie Wersching as Emma Whitmore
Ad blocker interference detected!
Wikia is a free-to-use site that makes money from advertising. We have a modified experience for viewers using ad blockers

Wikia is not accessible if you've made further modifications. Remove the custom ad blocker rule(s) and the page will load as expected.