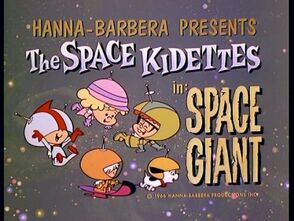 The Space Kidettes was a NBC network Saturday morning animated series produced by Hanna-Barbera.
The series premiered on September 10, 1966 and originally aired as a half-hour program (& was also sponsored by General Mills).
The voice cast consisted of Chris Allen, Janet Waldo, Don Messick, Daws Butler and Lucille Bliss.
The episodes were later edited down to 10 minute episodes and paired with other General Mills-sponsored TV shows such as "Tennessee Tuxedo" and "Go Go Gophers" to form a full half-hour for syndication.
On February 4, 1967, "The Space Kidettes" was cancelled after 20 episodes aired.
Set in outer space, "The Space Kidettes" followed the adventures of a group of child astronauts,[1] who have acquired a treasure map and have to keep it away from their space pirate nemesis Captain Skyhook and his sidekick Static.
Voice Cast
Edit
Chris Allen as Scooter
Lucille Bliss as Snoopy
Daws Butler as Captain Skyhook
Don Messick as Countdown, Pupstar & Static
Janet Waldo as Jenny
Ad blocker interference detected!
Wikia is a free-to-use site that makes money from advertising. We have a modified experience for viewers using ad blockers

Wikia is not accessible if you've made further modifications. Remove the custom ad blocker rule(s) and the page will load as expected.