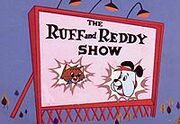 The Ruff and Reddy Show was a NBC network animated series and the first made by Hanna-Barbera Productions.
The show premiered on December 14, 1957 and the voice cast consisted of Daws Butler and Don Messick. The series is notable as one of the earliest original animated television programs and a pioneering use of limited animation techniques.
On April 2, 1960 (after 3 seasons and 50 episodes), "The Ruff and Reddy Show" was cancelled.
Ad blocker interference detected!
Wikia is a free-to-use site that makes money from advertising. We have a modified experience for viewers using ad blockers

Wikia is not accessible if you've made further modifications. Remove the custom ad blocker rule(s) and the page will load as expected.