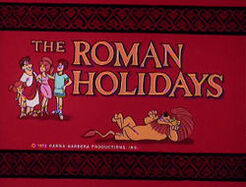 The Roman Holidays was a NBC network Saturday morning animated series produced by Hanna-Barbera. The show premiered on September 9, 1972.
The voice cast consisted of Dave Willock, Stanley Livingston, Shirley Mitchell, Pamelyn Ferdin, Daws Butler, Dom DeLuise and Hal Smith. Like in many Hanna-Barbera series produced in the 1970s, the show was given a laugh track.
After 13 episodes aired, "The Roman Holidays" was cancelled on December 2, 1972.
"The Roman Holidays" brought a look at "modern-day" life in Ancient Rome, around 63 AD (with a 1970s touch) as seen through the eyes of Augustus "Gus" Holiday and his family. The opening showed a chariot traffic jam and a TV showing football on Channel "IV".
Gus, his wife Laurie, their daughter Precocia (who, despite being the youngest of the family, is very intellectual) and their teen-aged son Happius (nicknamed "Hap") reside in the Venus de Milo Arms, run by their landlord Mr. Evictus, who excites Gus's tagline, "Evictus will evict us!".
Gus works for a bossy supervisor named Mr. Tycoonius at the Forum Construction Company, and after a hard day's marble lifting, he was greeted by the Holidays' pet, a lion named Brutus (who sounded a bit like Snagglepuss). Rounding out the cast is Hap's girlfriend, Groovia.
Voice Cast
Edit
Daws Butler as Brutus the Lion
Dom DeLuise as Mr. Evictus
Pamelyn Ferdin as Precocia Holiday
Stanley Livingston as Happius Holiday
Shirley Mitchell as Laurie Holiday
Harold Peary as Herman (Groovia's father)
Hal Smith as Mr. Tycoonius
John Stephenson
Judy Strangis as Groovia (Happius' girlfriend)
Janet Waldo as Henrietta (Groovia's mother)
Dave Willock as Gus Holiday
Ad blocker interference detected!
Wikia is a free-to-use site that makes money from advertising. We have a modified experience for viewers using ad blockers

Wikia is not accessible if you've made further modifications. Remove the custom ad blocker rule(s) and the page will load as expected.