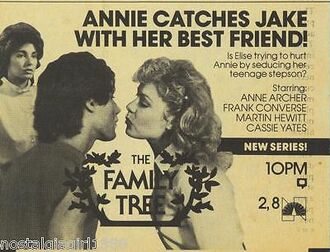 The Family Tree was a NBC network drama TV series that was created by Carol Evan McKeand. In 1982 (a year before the series' premiere), the pilot episode was a made for TV movie called "The Six of Us."
The series premiered on January 22, 1983 and the cast consisted of Frank Converse, Anne Archer, James Spader, Jonathan Hall Kovacs, Melora Hardin, Martin Hewitt, Alan Feinstein, Joanna Cassidy and Ann Dusenberry.
After only six episodes aired, "The Family Tree" was cancelled on August 10, 1983.
The series was about Annie Benjamin, a divorced mother of three children (Sam, Tess and Toby) who marries Kevin Nichols, a divorced father of two grown children (Jake and Molly) and the owner of a lumber company.
Anne Archer as Annie Benjamin Nichols
Frank Converse as Kevin Nichols
Jonathan Hall Kovacs as Toby Benjamin
Melora Hardin as Tess Benjamin
Martin Hewitt as Sam Benjamin
James Spader as Jake Nichols
Evan Ross as Josh Krebs
Ad blocker interference detected!
Wikia is a free-to-use site that makes money from advertising. We have a modified experience for viewers using ad blockers

Wikia is not accessible if you've made further modifications. Remove the custom ad blocker rule(s) and the page will load as expected.