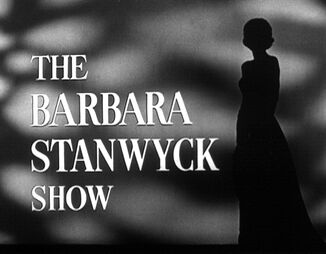 The Barbara Stanwyck Show was a NBC network anthology drama series starring actress Barbara Stanwyck which premiered on September 19, 1960.
Stanwyck starred as the hostess of the show and appeared in all but four of the half-hour episodes and the four episodes she didn't appear in were pilot episodes for potential series programs that were never picked up.
In 1961, Stanwyck won an Emmy Award for "Outstanding Performance by an Actress in a Series." On September 11, 1961, the show was cancelled after only one season and 36 episodes.
Ad blocker interference detected!
Wikia is a free-to-use site that makes money from advertising. We have a modified experience for viewers using ad blockers

Wikia is not accessible if you've made further modifications. Remove the custom ad blocker rule(s) and the page will load as expected.