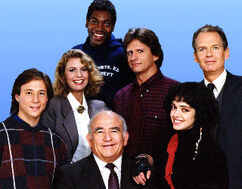 Teachers Only was an NBC sitcom created by Aaron Ruben, starring Lynn Redgrave & Norman Fell (known for starring on "Three's Company".
The show aired from April 14, 1982 to May 14, 1983, lasting for two seasons and 21 episodes.
"Teachers Only" centered on the faculty of a Los Angeles high school.
In the first season, the school was named Millard Fillmore High, but in the second season, it was changed to Woodrow Wilson High with a changed cast.
In both seasons of the show, Norman Fell played Principal Ben Cooper, but Lynn Redgrave's character, Diana Swanson, who had been an English teacher in the first season, became a guidance counselor in the second season.
Season 1
Lynn Redgrave as Diana Swanson
Norman Fell as Principal Cooper
Adam Arkin as Michael Dreyfuss
Van Nessa Clarke as Gwen Edwards
Norman Bartold as Assistant Principal Brody
Richard Karron as Mr. Pafko
Kit McDonough as Lois
Season 2
Lynn Redgrave as Diana Swanson
Norman Fell as Principal Cooper
Teresa Ganzel as Samantha Keating
Tim Reid as Michael Horne
Steve Ryan as Spud Le Boone
Jean Smart as Shari
Joel Brooks as Barney Betelman
Ad blocker interference detected!
Wikia is a free-to-use site that makes money from advertising. We have a modified experience for viewers using ad blockers

Wikia is not accessible if you've made further modifications. Remove the custom ad blocker rule(s) and the page will load as expected.