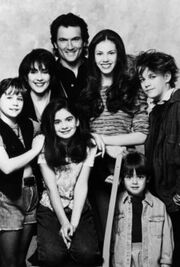 Someone Like Me was a NBC network sitcom created by Bruce Helford that starred actress Gaby Hoffmann (known for her roles in the films "Field of Dreams", "Uncle Buck", "This is My Life" and "Sleepless in Seattle") in the lead role.
The show premiered on March 14, 1994 and other cast members included Patricia Heaton, Anthony Tyler Quinn, Nikki Cox, Joseph Tello, Raegan Kotz, Matthew Thomas Carey, Jane Morris and Krystin Moore.
"Someone Like Me" aired on Monday nights, but after only 6 episodes aired, the show was cancelled on April 25, 1994, leaving one episode unaired.
Set in St. Louis, Missouri, the show was about 11-year-old Gaby Stepjak living with her mother Jean, stepfather Steven, teenage stepsister Samantha (or "Sam") and her younger half-brother Evan. Jane was Gaby's best friend who lived with her mother Dori and brother Neal. Marla was one of Gaby's friends.
Gaby Hoffmann as Gaby
Patricia Heaton as Jean
Anthony Tyler Quinn as Steven
Nikki Cox as Samantha "Sam"
Joseph Tello as Evan
Jane Morris as Dorie
Raegan Kotz as Jane
Matthew Thomas Carey as Neal
Krystin Moore as Marla
Episode List
Edit
The Lying Game (03\14\1994)
When Moms Collide (03\28\1994)
The Guys (04\04\1994)
El Presidente (04\18\1994)
What I Did For Art (04\25\1994)
Ad blocker interference detected!
Wikia is a free-to-use site that makes money from advertising. We have a modified experience for viewers using ad blockers

Wikia is not accessible if you've made further modifications. Remove the custom ad blocker rule(s) and the page will load as expected.