The topic of this page has a wikia of its own: Smash Wiki.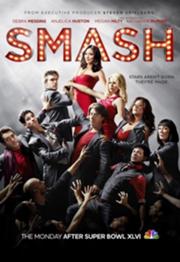 Smash was an American musical-drama series that premiered on NBC on February 6, 2012. It was broadcast in the US by NBC and produced by DreamWorks Television and Universal Television.
The show featured a large ensemble cast that was led by Debra Messing, Jack Davenport, Katharine McPhee, Christian Borle, Megan Hilty and Anjelica Huston.
The show debuted on February 6, 2012, and its first season ended on May 14, 2012. Its second season premiered on February 5, 2013, and ended on May 26, 2013. NBC announced a change in their lineup in March 2013 and moved the show to Saturdays starting April 6, 2013.
On May 10, 2013, "Smash" was officially cancelled on May 10, 2013. Second-season executive producer-show runner Josh Safran said the final episode of season two worked as a series finale.
The show revolves around a group of characters creating new Broadway musicals where everyone must balance his or her often chaotic personal life with the all-consuming demands of life in the theater.
The series features original music by composers Marc Shaiman and Scott Wittman.
Debra Messing as Julia Houston
Anjelica Huston as Eileen Rand
Jack Davenport as Derek Wills
Katharine McPhee as Karen Cartwright
Christian Borle as Tom Levitt
Megan Hilty as Ivy Lynn
Raza Jaffrey as Dev Sundaram
Jaime Cepero as Ellis Tancharoen
Brian d'Arcy James as Frank Houston
Ad blocker interference detected!
Wikia is a free-to-use site that makes money from advertising. We have a modified experience for viewers using ad blockers

Wikia is not accessible if you've made further modifications. Remove the custom ad blocker rule(s) and the page will load as expected.