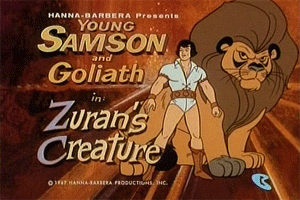 Samson & Goliath (later re-named Young Samson) is a NBC network animated series created & produced by Hanna-Barbera.
The show premiered on September 9, 1967 and the voice cast consisted of Mel Blanc, Tim Matheson & John Stephenson. In 1968, it was retitled to "Young Samson" in order to avoid confusion with the stop-motion Christian TV series "Davey & Goliath".
The "Samson & Goliath" cartoons were paired with other General Mills-sponsored shows such as "Tennessee Tuxedo" and "Go Go Gophers" to form a full half-hour for their original network broadcasts.
The show ended on August 31, 1968 after 13 episodes.
Ad blocker interference detected!
Wikia is a free-to-use site that makes money from advertising. We have a modified experience for viewers using ad blockers

Wikia is not accessible if you've made further modifications. Remove the custom ad blocker rule(s) and the page will load as expected.