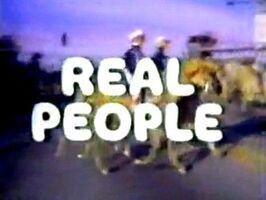 Real People was an NBC network reality TV series which featured regular hosts such as John Barbour, Sarah Purcell, Byron Allen, Skip Stephenson, Bill Rafferty, Mark Russell, Peter Billingsley and Fred Willard.
The show first premiered on April 18, 1979 and during its early seasons, it became one of NBC's most popular series, often scoring at the top of the ratings.
On July 4, 1984, it was cancelled after 5 seasons.
"Real People" featured a panel of seated hosts in front of a large studio audience. The hosts introduced pre-filmed segments and engaged in comedic banter about them. Each segment was a visit to someone with a unique occupation or hobby. Occasionally someone was brought into the studio to interact with the audience.
The show's segments included "funny pictures" and funny newspaper errors sent in by viewers, who were awarded a Real People T-shirt
The success of Real People" led to a batch of imitator and gave fitness instructor Richard Simmons his major break into the mass media & spotlighted such unique talents as Pittsburgh Police traffic cop Vic Cianca.
When repeats of the show were initially syndicated to broadcast stations, it was edited into 30-minute segments and retitled "More Real People."
In 1980, NBC launched two attempts at spin-offs" "Speak Up, America" and "Real Kids." The former "Speak Up, America" starred former child televangelist Marjoe Gortner and basically expanded the opening segment of "Real People" (in which audience members were encouraged to sound off about any topics they wished) into a full hour program.
The latter, "Real Kids" starred Peter Billingsley and a cast of child hosts in a format that mirrored Real People, but focused only on kids.
Both spin-off formats quickly failed, though Billingsley went on to join Real People as a recurring host / contributor.
A one-hour retrospective special of "Real People" aired on September 16, 1991 with hosts Sarah Purcell and Fred Willard.
Ad blocker interference detected!
Wikia is a free-to-use site that makes money from advertising. We have a modified experience for viewers using ad blockers

Wikia is not accessible if you've made further modifications. Remove the custom ad blocker rule(s) and the page will load as expected.