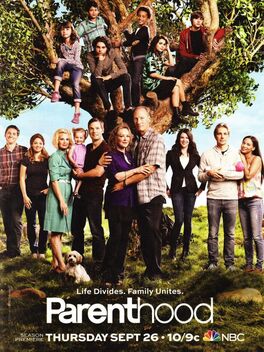 Parenthood is an American television drama series developed by Jason Katims and produced by Imagine Television and Universal Television for NBC and is loosely based on the 1989 film of the same title.
It first premiered on March 6, 2010 and became well-received by TV critics, earning several nominations and awards including one Vision Award, a Critics' Choice Television Award, two Television Academy Honors awards, four Young Artist Awards, and three Entertainment Industries Council PRISM Awards.
Despite the show getting strong reviews, "Parenthood" never gained a strong audience.
On January 29, 2015, the show ended after 6 seasons and 103 episodes.
The show tells of the Braverman clan, which comprises an older couple, their four children, and their families.
Peter Krause as Adam Braverman
Lauren Graham as Sarah Braverman
Dax Shepard as Crosby Braverman
Monica Potter as Kristina Braverman
Erika Christensen as Julia Braverman-Graham
Sam Jaeger as Joel Graham
Savannah Paige Rae as Sydney Graham
Sarah Ramos as Haddie Braverman (main cast seasons 1–3; recurring cast season 4; guest starring seasons 5–6)
Max Burkholder as Max Braverman
Joy Bryant as Jasmine Trussell
Miles Heizer as Drew Holt
Mae Whitman as Amber Holt
Bonnie Bedelia as Camille Braverman
Craig T. Nelson as Zeek Braverman
Tyree Brown as Jabbar Trussell (recurring season 1; main seasons 2–6)
Xolo Mariduena as Victor Graham (guest season 3; main seasons 4–6)
Ad blocker interference detected!
Wikia is a free-to-use site that makes money from advertising. We have a modified experience for viewers using ad blockers

Wikia is not accessible if you've made further modifications. Remove the custom ad blocker rule(s) and the page will load as expected.