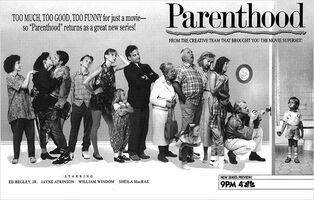 Parenthood is an American sitcom based on the 1989 film of the same name. It first premiered on August 20, 1990 and was executively produced by Ron Howard (who also directed the film version of "Parenthood").
Due to low ratings, the show was cancelled on August 11, 1991 after one season and 12 episodes.
In 2010, a new version of Parenthood aired, lasting for 6 seasons.
The show was one of many failed movie-to-TV adaptations in the 1990-91 season, also including Baby Talk (a follow up to the film "Look Who's Talking"), Ferris Bueller and Uncle Buck.
The series delivered seriocomic vignettes on rearing children, revolving around four generations of a middle-class California (however, the movie took place in St. Louis, Missouri) family, the Buckmans. The Huffners of the film were renamed the Merricks on the TV series.
David Arquette as Tod Hawks
Jayne Atkinson as Karen Buckman
Ed Begley, Jr. as Gil Buckman
Thora Birch as Taylor Buckman
Maryedith Burrell as Helen Buckman
Leonardo DiCaprio as Garry Buckman
Mary Jackson as Great Grandma Greenwell
Zachary La Voy as Justin Buckman
Sheila MacRae as Marilyn Buckman
Bess Meyer as Julie Buckman Hawks
Susan Norman as Susan Buckman Merrick
Ken Ober as Nathan Merrick
Ivyann Schwan as Patty Merrick
Max Elliott Slade as Kevin Buckman
William Windom as Frank Buckman