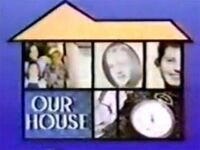 Our House was an NBC network drama series created by James Lee Barrett that premiered on September 11, 1986 and ended on May 8, 1988 after 2 seasons & 46 episodes.
After the death of his son, John, Gus Witherspoon, a retired widower invites his daughter-in-law Jessie and her three children: 15-year-old Kris, 12-year-old David and 8-year-old Molly along with their basset hound, Arthur to live with them in California until they can get back on their feet financially, but as the family settles into life living with Gus, they realize that he can be difficult to live with.
A major part of the show's plot each week was centered on the conflict that can arise when extended family tries to live together in the same house. As the man of the house, Gus imposed rules on his grandchildren the same way that he raised his own children, but later learned ways to convey his lessons to the kids without being gruff.
Act Enders/House Graphic
Edit
During the intro, viewers were dazzled by a graphic of an abstract rendering of a house figure. The lower left hand corner houses the show's title, while the three children house the upper left. As the intro continued they saw what seems like close-ups of the house filled with scenes from the show.
Each of the five acts of the episode before a commercial break ended with a freeze-frame shot which then occupied one of the rooms in the house graphic.
As the episode unfolded, more rooms were filled until finally when the dilemma had been resolved, the final piece was put in place, completing the house. The pieces then faded away and the executive producers credit appeared before the final fade out.
Finally, the credits were rolled in front of the graphic.
Wilford Brimley as Gus Witherspoon
Deidre Hall as Jessica "Jessie" Witherspoon
Shannen Doherty as Kristina "Kris" Witherspoon
Chad Allen as David Witherspoon
Keri Houlihan as Molly Witherspoon
Gerald S. O'Loughlin as Joe Kaplan
Reception
Edit
Upon the show's 1986 premiere, the Associated Press called it "a family show suitable for framing."
Despite positive reviews, "Our House" was not a ratings success, likely owing to being scheduled Sundays at 7 PM (EST) opposite CBS's "60 Minutes" and numerous overruns by NFL games on its own network.
The series ranked 59th in its first season (12.9 rating) and 71st in its second season (10.9 rating).
Ad blocker interference detected!
Wikia is a free-to-use site that makes money from advertising. We have a modified experience for viewers using ad blockers

Wikia is not accessible if you've made further modifications. Remove the custom ad blocker rule(s) and the page will load as expected.