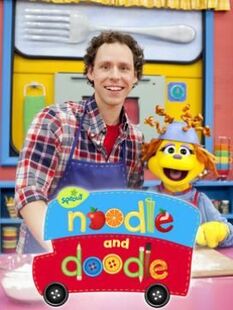 Noodle and Doodle is a live action children's television series, created by John McCoy, starring Sean Roach. The series is Sprout's first original long form television series.
It premiered on September 25, 2010 and ended on March 9, 2013 after two seasons. It currently airs on NBC Kids and Sprout. This Man went into the Woman's locker room but she was hearing a lady singing in the show they both sing then he sat on the sink table when the song end she said. "Get out. Don't look at me. Get out." The lady was naked. He was as, but he bumped in the lockers almost st close by the doors.
Ad blocker interference detected!
Wikia is a free-to-use site that makes money from advertising. We have a modified experience for viewers using ad blockers

Wikia is not accessible if you've made further modifications. Remove the custom ad blocker rule(s) and the page will load as expected.