Nightingales was an NBC network medical drama produced by Aaron Spelling that premiered on January 21, 1989. The show was developed from a pilot television movie of the same name that aired in June of 1988.
It was cancelled on April 26, 1989 after one season and 13 episodes.
"Nightingales" followed the stories of student nurse supervisor Christine Broderick (Suzanne Pleshette) and her five nursing students: Bridget Loring (Susan Walters), who was in the Witness Protection Program, trying to start over after testifying against a mobster; Sam Sullivan (Chelsea Field), a recovering alcoholic who had a side job as a dancer to support her young daughter, Megan (Taylor Fry); Allyson Yates (Kim Johnston Ulrich), a sexy blonde who always fell for the wrong guy; Becky Granger (Kristy Swanson), a naive young girl from Missouri; and Yolanda "Yo" Puente (Roxann Dawson), an underprivileged minority student, who all lived together in a villa called Nightingale House in Los Angeles, California and worked at Wilshire Memorial Hospital.
Other hospital personnel included Christine's love interest, Dr. Paul Petrillo (Gil Gerard); the head nurse, Lenore Ritt (Fran Bennett) and the chief of staff, Dr. Garrett Braden (Barry Newman).
Suzanne Pleshette as Christine Broderick
Barry Newman as Dr. Garrett Braden
Susan Walters as Bridget Loring
Chelsea Field as Samantha "Sam" Sullivan
Kristy Swanson as Rebecca "Becky" Granger
Roxann Biggs Dawson as Yolanda "Yo" Elena Puente
Kim Johnston Ulrich as Allyson Yates
Taylor Fry as Megan Sullivan
Fran Bennett as Head Nurse Lenore Ritt
Doran Clark as Dr. Charlene Chasen
Gil Gerard as Dr. Paul Petrillo
Jennifer Rhodes as Effie Gardner
Reception
Edit
The series was described in the Chicago Tribune as portraying nursing students as women who "don't spend much time studying...[but] do hang around in their underwear a lot". It was also criticized for "demeaning the nursing profession...by portraying five student nurses as lusty bimbos" and the American Nurses Association initiated a letter-writing campaign that prompted several of the show's sponsors to withdraw their advertising.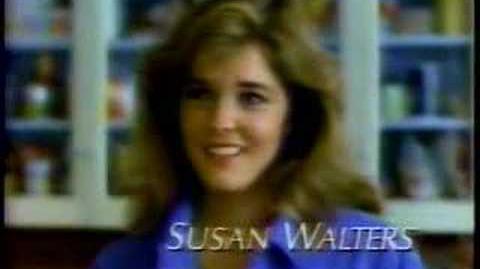 Ad blocker interference detected!
Wikia is a free-to-use site that makes money from advertising. We have a modified experience for viewers using ad blockers

Wikia is not accessible if you've made further modifications. Remove the custom ad blocker rule(s) and the page will load as expected.