Nancy was an NBC sitcom, starring Renne Jarrett in the title role. It was created by producer Sidney Sheldon, who wrote every episode under various pseudonyms (such as "Mark Rowane", "Christopher Golato" and "Allan Devon")
The show aired from September 17, 1970 to January 7, 1971, lasting only one season and 17 episodes.
It aired in the 9:30 p.m. Eastern timeslot between "Ironside" and "The Dean Martin Show" & competed with ABC's "The Odd Couple" and the second half-hour of the CBS Thursday Night Movies.
The show was about Nancy Smith, daughter of the President of the United States who meets & marries veterinarian Adam Hudson while vacationing in the fictional town of Center City, Iowa.
Renne Jarrett as Nancy Smith
John Fink as Dr. Adam Hudson
Celeste Holm as Abigail "Abby" Townsend
Robert F. Simon as Uncle Everett McPherson
Frank Aletter as Tom Daily
Eddie Applegate as Willie Maxwell
William Bassett as Agent Turner
Ernesto Macias as Agent Rodriguez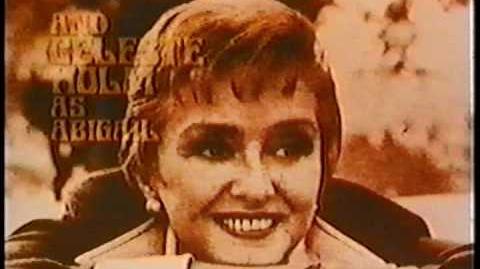 Ad blocker interference detected!
Wikia is a free-to-use site that makes money from advertising. We have a modified experience for viewers using ad blockers

Wikia is not accessible if you've made further modifications. Remove the custom ad blocker rule(s) and the page will load as expected.