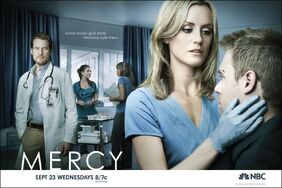 Mercy was an NBC network medical drama TV series created by Liz Heldens that premiered on September 23, 2009 and starred Taylor Schilling, Jaime Lee Kirchner and Michelle Trachtenberg in the lead roles.
The series initially aired on Wednesday at 8:00 pm (ET) as part of the 2009 fall season, but it was pushed back to 9:00 pm in April. On October 23, 2009, 'Mercy" was picked up for a full 22-episode first season.
On May 14, 2010 (after one season and 22 episodes), "Mercy" was cancelled due to low ratings.
The show was an ensemble drama set that was set in the fictional Mercy Hospital in Jersey City, New Jersey.
The show focuses on the lives of three nurses: Veronica Flanagan Callahan, who has just returned from a tour of duty in Iraq, Veronica's best friend, Sonia Jimenez who has become seriously involved with a police officer and Chloe Payne, a recent nursing graduate who is thrown into the world of nursing and is unprepared for what it entails.
Main Cast
Taylor Schilling as Nurse Veronica Callahan
Jaime Lee Kirchner as Nurse Sonia Jimenez
Michelle Trachtenberg as Nurse Chloe Payne
James Tupper as Dr. Chris Sands
Diego Klattenhoff as Mike Callahan
Guillermo Diaz as Nurse Angel Lopez
James LeGros as Dr. Dan Harris
Recurring Cast
David Call as Paul Kempton
Delroy Lindo as Dr. Alfred Parks
Kate Mulgrew as Jeannie Flanagan
Peter Gerety as Jim Flanagan
Michael Chernus as Ryan Flanagan
Patch Darragh as Tim Flanagan
Johnny Hopkins as Bobby Flanagan
Charlie Semine as Nick Valentino
K.K. Moggie as Dr. Gillian Jelani
Margo Martindale as Helen Klowden
Jill Flint as Simone Sands
James Van Der Beek as Dr. Joe Briggs
Mary Stuart Masterson as Dr. Denise Cabe
Kelly Bishop as Lauren Kempton
Ad blocker interference detected!
Wikia is a free-to-use site that makes money from advertising. We have a modified experience for viewers using ad blockers

Wikia is not accessible if you've made further modifications. Remove the custom ad blocker rule(s) and the page will load as expected.