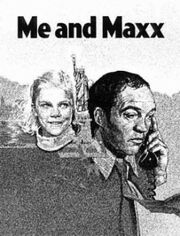 Me and Maxx was an NBC sitcom created by James Komack, starring Joe Santos and Melissa Michaelsen.
The show aired from March 22 to July 25, 1980, lasting only one season and 10 episodes.
The show was about an 11-year-old girl named Maxx who moves in with her bachelor father, Norman after her mother abandons her on his doorstep.
Joe Santos as Norman Davis
Melissa Michaelsen as Maxx Davis
Jenny Sullivan as Barbara
Denny Evans as Gary
Jim Weston as Mitch
Ad blocker interference detected!
Wikia is a free-to-use site that makes money from advertising. We have a modified experience for viewers using ad blockers

Wikia is not accessible if you've made further modifications. Remove the custom ad blocker rule(s) and the page will load as expected.