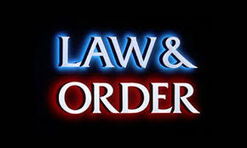 Law & Order is an American police procedural and legal drama television series, created by Dick Wolf and part of the Law & Order franchise. It originally aired on NBC and, in syndication, on various cable networks. Law & Order premiered on September 13, 1990, and completed its 20th and final season on May 24, 2010.
At the time of its cancellation, "Law & Order" was the longest-running crime drama on American primetime television.
Its record of 20 seasons is a tie with "Gunsmoke" for the longest-running live-action scripted American prime-time series with ongoing characters, although it had fewer episodes than "Gunsmoke" and both series are surpassed by the animated series The Simpsons (renewed for a 26th season in September 2014).
The show has spawned the following spin-offs: Law & Order: Special Victims Unit, Law & Order: Criminal Intent, Law & Order: LA and Law & Order: Trial By Jury.
Set and filmed in New York City, "Law & Order" follows a two-part approach: the first half of each episode is the investigation of a crime (usually murder) and apprehension of a suspect by New York City Police Department detectives.
The second half of the episode is the prosecution of the defendant by the Manhattan District Attorney's Office.
The plots are often based on real cases that recently made headlines, although the motivation for the crime and the perpetrator may be different.
Ad blocker interference detected!
Wikia is a free-to-use site that makes money from advertising. We have a modified experience for viewers using ad blockers

Wikia is not accessible if you've made further modifications. Remove the custom ad blocker rule(s) and the page will load as expected.