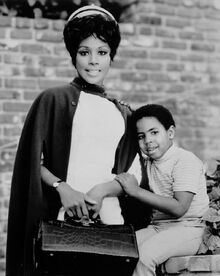 Julia was an NBC sitcom, created by Hal Kanter, starring Diahann Carroll in the title role.
The show aired from September 17, 1968 to March 23, 1971, lasting three seasons and 86 episodes.
"Julia" is notable for being one of the first weekly television series to depict an African American woman in a non-stereotypical role.
Ad blocker interference detected!
Wikia is a free-to-use site that makes money from advertising. We have a modified experience for viewers using ad blockers

Wikia is not accessible if you've made further modifications. Remove the custom ad blocker rule(s) and the page will load as expected.