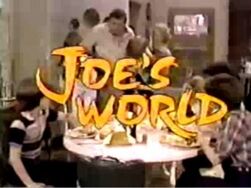 Joe's World was an NBC network sitcom created by Larry Rhyne & Mel Tokin, starring Ramon Bieri in the lead role.
The show premiered on December 28, 1979, but it was pulled off the air in January of 1980 after three episodes aired. The remaining episodes of the series aired from May 10 to July 12, 1980, lasting for 1 season & 11 episodes. Th simpsons
The show centered on Joe Wabash, a house painter living in Detroit and the father of five children: Steve, Maggie, Jimmy, Rick & Linda.
Ramon Bieri as Joe Wabash
K Callan as Katie Wabash
Christopher Knight as Steve Wabash
Melissa Sherman as Maggie Wabash
Michael Sharrett as Jimmy Wabash
Ari Zeltzer as Rick Wabash
Missy Francis as Linda Wabash
Russ Banham as Brad Hopkins
Misty Rowe as Judy Wilson
Frank Coppola as Andy
Ad blocker interference detected!
Wikia is a free-to-use site that makes money from advertising. We have a modified experience for viewers using ad blockers

Wikia is not accessible if you've made further modifications. Remove the custom ad blocker rule(s) and the page will load as expected.