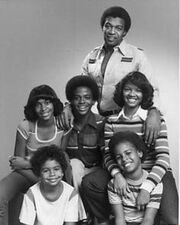 Harris and Company was a short-lived NBC network drama series, created by Arthur A. Ross which premiered on March 15, 1979.
The series was based upon the TV movie "Love Is Not Enough" that aired on NBC on June 12, 1978 and was the first weekly American TV drama series centered on an African-American family.
The series aired for only four episodes, ending on April 5, 1979 and was the lowest-rated U.S. broadcast network primetime series that season.
The show was about Mike Harris, a working-class African-American father of five who relocates his family from Detroit, Michigan to Los Angeles, California after the death of his wife.
Bernie Casey as Mike Harris
David Hubbard as David Harris
Renee Brown as Liz Harris
Lia Jackson as Juanita "J.P." Harris
Dain Turner as Richard Harris
Eddie Singleton as Tommy Harris
Stu Gilliam as Charlie Adams
Carol Tillery Banks as Angie Adams
Lois Walden as Louise Foreman
James Luisi as Harry Foreman
Ad blocker interference detected!
Wikia is a free-to-use site that makes money from advertising. We have a modified experience for viewers using ad blockers

Wikia is not accessible if you've made further modifications. Remove the custom ad blocker rule(s) and the page will load as expected.