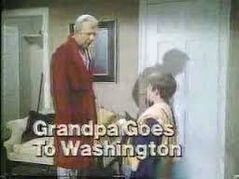 Grandpa Goes to Washington was a NBC network comedy-drama sitcom series, starring Jack Albertson in the lead role.
The show first premiered on September 7, 1978, airing on Tuesday evenings. After 11 episodes aired, the show ended on January 16, 1979.
The show was about Joe Kelley, a political science teacher who was forced to retire when he turned 66 years old, who then got himself elected to the U.S senate in spite of his not having any political experience. He won the election when the other candidates for office were tarnished by scandal.
Joe's style was unusual. He drove himself in an old Volkswagen (as opposed to being driven in a limousine), for relaxation he played the drums, and his earnest pledge was "Honesty in Government". He received his political information from former students, whom he considered his "friends in low places". His aim was to make the country a better place to live.
Joe lived with his son, Air Force General Kevin Kelley; Kevin's wife, Rosie; and their two children, Kathleen and Kevin, Jr. Joe thought Kevin was dull, bland and empty-headed (he called him, "My son, the Fathead'). Kevin tried to interfere with his father's position as a Senator, increasing the tension between them. Also seen was Madge, Joe's secretary and Tony, Joe's aide. Another character was Patti (who was played by comedian Patti Deutsch).
Jack Albertson as Senator Joe Kelley
Larry Linville as Major General Kevin Kelley
Sue Ane Langdon as Rosie Kelley
Sparky Marcus as Kevin Kelley Jr.
Michele Tobin as Kathleen Kelley
Tom Mason as Tony DeLuca
Madge Sinclair as Madge
Patti Deutsch as Patti
Ad blocker interference detected!
Wikia is a free-to-use site that makes money from advertising. We have a modified experience for viewers using ad blockers

Wikia is not accessible if you've made further modifications. Remove the custom ad blocker rule(s) and the page will load as expected.