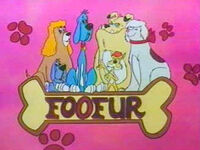 Foofur is an American animated children's television series created by Phil Mendez, and was produced by Hanna-Barbera Productions with SEPP International S.A.. It aired on NBC from 1986 to 1988.
Foofur is blue skinny dog who is the leader of a group of canines and feline. Together they live in a big mansion to which the title character inherited from his dead owner. Also together, they secretly battle greedy humans, one in particular, Mrs. Amelia Escrow, the holder of the late master's will. Each week they foil her attempts to sell the house by scaring the potential buyers. They also foil her chihuahua Pepe's plans & attempts to expose Foofur's illegal roommates.
Episode List
Edit
Show
Title
Writers
Air Date
1a
"A Little Off the Top"
Story by : Mark Young
Teleplay by : Tony Marino
September 13, 1986
1b
"A Clean Sweep"
Story by : Mark Young
Teleplay by : Mark Cassutt
September 13, 1986
2
3
4
5a
5b
6a
6b
7a
7b
8a
8b
9a
9b
10a
10b
11
12a
12b
13
Show
Title
Writers
Air Date
14a
14b
16a
16b
17a
17b
18a
18b
19a
19b
20a
20b
21a
21b
22a
22b
23a
23b
24a
24b
25a
25b
26
Ad blocker interference detected!
Wikia is a free-to-use site that makes money from advertising. We have a modified experience for viewers using ad blockers

Wikia is not accessible if you've made further modifications. Remove the custom ad blocker rule(s) and the page will load as expected.