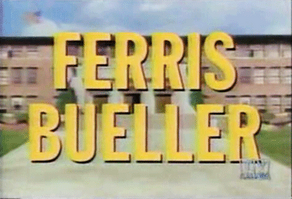 Ferris Bueller was a NBC network sitcom series based on the 1986 John Hughes' film "Ferris Bueller's Day Off" that premiered on August 23, 1990.
The show starred Charlie Schlatter (in the lead title role), Jennifer Aniston (who would later go on to star in "Friends"), Sam Freed, Cristine Rose, Brandon Douglas, Richard Riehle, Judith Kahan, Ami Dolenz and Jeff Maynard.
It aired on Monday evenings (along with "The Fresh Prince of Bel-Air") and had strong ratings at first, but they later declined in the following weeks.
The series received negative reviews from critics and was compared to the FOX network series "Parker Lewis Can't Lose" (which lasted longer than "Ferris Bueller").
On December 16, 1990 "Ferris Bueller" was cancelled after 13 episodes. It was replaced midseason with the sitcom "Blossom".
Charlie Schlatter as Ferris Bueller
Brandon Douglas as Cameron Frye
Ami Dolenz as Sloan Peterson
Jennifer Aniston as Jeannie Bueller
Richard Riehle as Principal Edward R. Rooney
Cristine Rose as Barbara Bueller
Sam Freed as Bob Bueller
Judith Kahan as Grace
Jeff Maynard as Arthur Petrelli
Jerry Tullos as Mr. Rickets
David Glasser as Dork
Brandon Rane as Wimp
Roy Brocksmith as Mr. Carter
Ad blocker interference detected!
Wikia is a free-to-use site that makes money from advertising. We have a modified experience for viewers using ad blockers

Wikia is not accessible if you've made further modifications. Remove the custom ad blocker rule(s) and the page will load as expected.