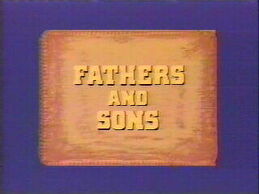 Fathers and Sons was an NBC network sitcom created by Nick Arnold & Michael Zinberg that premiered on April 6, 1986, airing on Sunday evenings.
After 4 episodes aired, the series was cancelled on May 4, 1986.
"Fathers and Sons" focused on the relationships of a group of adolescent boys with each other and their baseball coach, Buddy Landau.
Merlin Olsen as Buddy Landau
Jason Late as Lanny Landau
Kelly Sanders as Ellen Landau
Andre Gower as Sean Flynn
Ian Fried as Matty Bolen
Nicholas Guest as Dr. Richard Bolen
Hakeem Abdul-Samad as Brandon Russo
Ad blocker interference detected!
Wikia is a free-to-use site that makes money from advertising. We have a modified experience for viewers using ad blockers

Wikia is not accessible if you've made further modifications. Remove the custom ad blocker rule(s) and the page will load as expected.