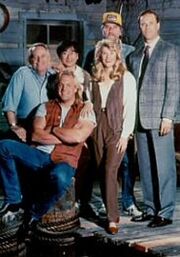 Down Home was a NBC network sitcom that was created by Barton Deane that starred Judith Ivey, Ray Baker, Eric Allan Kramer, Dakin Matthews, Timothy Scott and Gedde Watanabe.
The show premiered on April 12, 1990 and "Cheers" actor Ted Danson served as the co-producer of the series.
On August 10, 1991, "Down Home" was cancelled after two seasons and 19 episodes.