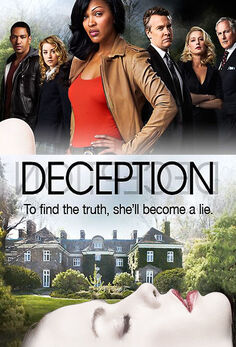 Deception was an American prime time television soap opera that aired on NBC, created by Liz Heldens, starring Meagan Good, Laz Alonso, Tate Donovan, Katherine LaNasa, Wes Brown, Ella Rae Peck, Marin Hinkle and Victor Garber.
The series premiered on Monday, January 7, 2013. It was canceled on May 13, 2013 after only one season & 11 episodes, ending it on a cliffhanger.
When a famous socialite named Vivian Bowers is found dead in a motel room from what appears to be a drug overdose, her estranged best friend Detective Joanna Locasto is re-embraced by the wealthy Bowers family.
In time, Joanna begins to uncover the truth of what really happened to her friend and who was behind it.
Meagan Good as Joanna Locasto
Victor Garber as Robert Bowers
Tate Donovan as Edward Bowers
Laz Alonso as Will Moreno
Wes Brown as Julian Bowers
Katherine LaNasa as Sophia Bowers
Ella Rae Peck as Mia Bowers
Marin Hinkle as Samantha Bowers