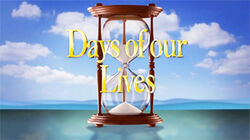 Days of Our Lives (also stylized as Days of our Lives; often abbreviated to DOOL or Days) is an American daytime soap opera broadcast on the NBC television network. It is one of the longest-running scripted television programs in the world, airing nearly every weekday since November 8, 1965. It has since been syndicated to many countries around the world.
It rebroadcast same-day episodes on SOAPnet weeknights at 8 and 10 p.m. (ET/PT) until the network's closure in 2013. The series was created by husband-and-wife team Ted Corday and Betty Corday.[1] Irna Phillips was a story editor for Days of Our Lives and many of the show's earliest storylines were written by William J. Bell. In January 2014, the show was renewed through September 2016
Ad blocker interference detected!
Wikia is a free-to-use site that makes money from advertising. We have a modified experience for viewers using ad blockers

Wikia is not accessible if you've made further modifications. Remove the custom ad blocker rule(s) and the page will load as expected.