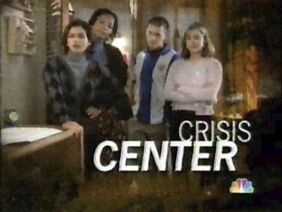 Crisis Center was an NBC network drama TV series produced by Joseph Stern and Thania St. John that aired on February 28, 1997.
The cast consisted of Kellie Martin, Matt Roth, Nia Peeples, Tina Lifford, Clifton Gonzalez-Gonzalez and Dana Ashbrook.
The show aired on Friday evenings, but after only six episodes aired, it was cancelled on April 4, 1997.
Actress Kellie Martin would go on to star on another NBC network TV series "E.R." and stayed on the show until 2000.
"Crisis Center" was about the situations that revolve around a crisis center in San Francisco, California which included suicidal callers, hostage situations and mothers in labor.
Kellie Martin as Kathy Goodman
Matt Roth as Dr. Rick Buckley
Nia Peeples as Lily Gannon
Tina Lifford as Tess Robinson
Clifton Gonzalez-Gonzalez as Nando Taylor
Dana Ashbrook as Gary McDermott
Episode List
Edit
The Center (02\28\1997)
It's a Family Affair (03\07\1997)
He Said, She Said (03\14\1997)
Someone to Watch Over Me (03\21\1997)
Where Truth Lies (03\28\1997)
Shots (04\04\1997)
Ad blocker interference detected!
Wikia is a free-to-use site that makes money from advertising. We have a modified experience for viewers using ad blockers

Wikia is not accessible if you've made further modifications. Remove the custom ad blocker rule(s) and the page will load as expected.