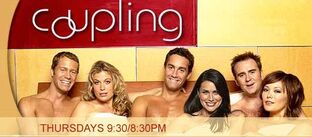 Coupling was an NBC network sitcom & American remake of the British television sitcom of the same title created by Steven Moffat.
The show premiered on September 25, 2003 and starred Rena Sofer, Jay Harrington, Lindsay Price, Sonya Walger, Colin Ferguson and Christopher Moynihan.
NBC commissioned thirteen episodes, but due to low ratings & poor critical reception, "Coupling" was cancelled on October 31, 2003 after only four episodes. The final three planned episodes were not filmed & the remaining six episodes remain unaired.
The show was about six 30-somethings who live in Chicago, Illinois and are either involved, formerly involved or looking to become intimately involved with one another.
Susan is a beautiful and sexy go-getter with an uninhibited attitude who used to date Patrick, the cocky, good-looking guy of the group.
Sally is Susan's attractive and unspeakably vain best friend and beauty therapist who is desperate for a man and now dates Patrick.
Steve wants to date Susan, but he can't seem to shake off his clingy ex-girlfriend, Jane, who is completely in love with Steve and refuses to be dumped by him.
Jeff is Steve's "porn buddy," who (unknown to his friends) is terrified of sex or the prospect of it. He works in the same office as Susan and had a forgettable fling with her.
Jay Harrington as Steve Taylor
Rena Sofer as Susan
Colin Ferguson as Patrick Bateman
Lindsay Price as Jane Christie
Christopher Moynihan as Jeff Murdoch
Sonya Walger as Sally Harper
Episode List
Edit
Ep#
Production
number
Original airdate
Episode title
Written by
Based on UK episode
0
Unknown
Unaired
"Pilot"
Steven Moffat
"Inferno"
1
101
September 25, 2003
"The Right One"
Steven Moffat
"Flushed"
2
102
October 2, 2003
"Size Matters"
Steven Moffat
"Size Matters"
3
103
October 9, 2003
"Sex, Death & Nudity"
Steven Moffat
"Sex, Death & Nudity"
4
106
October 23, 2003
"Check/Mate"
Danny Zuker
5
104
Unaired
"Present Tense"
Paul Corrigan & Brad Walsh
6
105
Unaired
"A Foreign Affair"
Phoef Sutton & Steven Moffat
"The Girl with Two Breasts"
7
107
Unaired
"Nipple Effect"
J.J. Philbin
8
108
Unaired
"Dressed"
Steven Moffat & Phoef Sutton
"Dressed"
9
109
Unaired
"Object Lessons"
Liz Astrof
10
110
Unaired
"Holiday"
Paul Corrigan & Brad Walsh
Ad blocker interference detected!
Wikia is a free-to-use site that makes money from advertising. We have a modified experience for viewers using ad blockers

Wikia is not accessible if you've made further modifications. Remove the custom ad blocker rule(s) and the page will load as expected.