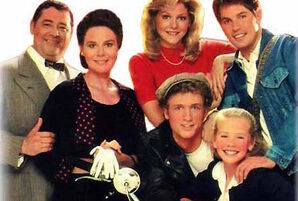 Boone was an NBC network drama series created by Earl Hammer Jr.
The first ten episodes of the series aired from September 26 to December 12, 1983 & the last three episodes aired from July 28 to August 11, 1984.
Set in the 1950s, "Boone" was about a teenage boy named Boone Sawyer from Tennessee, who has dreams of becoming a country music star despite his father's hopes that he would join him in the automobile repair business.
Tom Byrd as Boone Sawyer
Greg Webb as Rome Hawley
Barry Corbin as Merit Sawyer
Amanda Peterson as Squirt Sawyer
Elizabeth Huddle as Faye Sawyer
Kitty Moffat as Susannah Sawyer
Ronnie Clair Edwards as Aunt Dolly
William Edward Phipps as Uncle Link
Davis Roberts as Mr. Johnson
Julie Anne Haddock as Banjo
Robyn Lively as Amanda
Chris Hebert as Norman
Episode List
Edit
The Monument (09/26/1983)
The Last Dance (10/3/1983)
Banjo (10/10/1983)
The Trial (10/17/1983)
Second Fiddle (10/24/1983)
The Decision (10/31/1983)
The Graduation (11/14/1983)
Chance of a Lifetime (11/21/1983)
The Audition (12/5/1983)
Words and Music (12/12/1983)
Hard to Get (07/28/1984)
The Front Line (08/4/1984)
The Runaway (08/11/1984)
Ad blocker interference detected!
Wikia is a free-to-use site that makes money from advertising. We have a modified experience for viewers using ad blockers

Wikia is not accessible if you've made further modifications. Remove the custom ad blocker rule(s) and the page will load as expected.