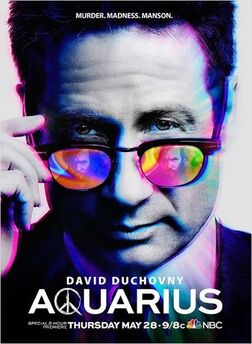 Aquarius is an NBC network period\crime drama TV show created by John McNamara, starring David Duchovny, Grey Demon, Gethin Anthony, Emma Dumont, Claire Holt, Michaela McManus and Brian F. O'Bryne.
The show premiered on May 28, 2015 and on June 25, 2015, it was renewed by the network for a second season.
Synopsis
Edit
"Aquarius" is set in 1967 Los Angeles and its story line is inspired by actual persons & events, but is also made up of fictional characters and story arcs.
The show stars David Duchovny as Sam Hodiak, a fictional LAPD detective investigating the case of a missing teenage girl. Along with his younger colleague, undercover narcotics officer Brian Shafe (Grey Damon), Hodiak finds himself coming up against Charles Manson (portrayed by Gethin Anthony) and his "family", a mostly ragtag group of hippies who follow Manson in drugs, sex and rock-and-roll.
Hodiak discovers that the girl they are looking for, Emma Karn (Emma Dumont), is with Manson and The Family.
David Duchovny as Sergeant Sam Hodiak
Grey Damon as Officer Brian Shafe
Claire Holt as Officer Charmain Tully
Gethin Anthony as Charles Manson
Emma Dumont as Emma Karn
Brían F. O'Byrne as Ken Karn
Michaela McManus as Grace Karn
Chance Kelly as Detective Ed Cutler
Carl Conti as Morty
Ad blocker interference detected!
Wikia is a free-to-use site that makes money from advertising. We have a modified experience for viewers using ad blockers

Wikia is not accessible if you've made further modifications. Remove the custom ad blocker rule(s) and the page will load as expected.