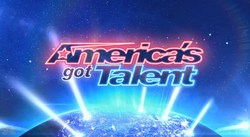 America's Got Talent (sometimes abbreviated as AGT) is an American reality television series on the NBC television network, and part of the global British Got Talent franchise. It is a talent show that features singers, dancers, magicians, comedians, and other performers of all ages competing for the advertised top prize of one million dollars. The show debuted in June 2006 for the summer television season.
From season three onwards, the prize includes the one million dollars, payable in a financial annuity over 40 years (or the present cash value of such annuity), and a chance to headline a show on the Las Vegas Strip. Among its significant features is that it gives an opportunity to talented amateurs or unknown performers, with the results decided by an audience vote. The format is a popular one and has often been reworked for television in the United States and the United Kingdom.
Ad blocker interference detected!
Wikia is a free-to-use site that makes money from advertising. We have a modified experience for viewers using ad blockers

Wikia is not accessible if you've made further modifications. Remove the custom ad blocker rule(s) and the page will load as expected.