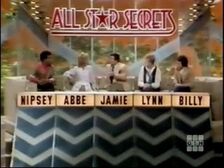 All Star Secrets was a NBC daytime game show that aired from January 8 to August 10, 1979.
The show was hosted by co-creator Bob Eubanks. It was first announced by Charlie O'Donnell until he was replaced by Tony McClay due to conflicts with his announcing duties on ABC's "Wheel of Fortune."
Game Summary
Edit
Three contestants were told some interesting secrets about a panel of five stars. The secrets were given to the producers beforehand in an interview and the contestants' job was to match the secret to the celebrity that gave that secret.
On each secret, a randomizer shuffled money amounts ranging from $120 to $300, stopping when a player pressed a button. After the secret was read, one celebrity whom the secret did not pertain to (just for fun) offered his/her opinion on which star had the secret.
The contestants then secretly chose which star had the secret and a correct answer won money according how many contestants got it right: if two or all three players were correct, they split the money (1/3 for all three, and 1/2 for two), but if only one player got it, he/she got the whole pot.
Money values doubled for the third and fourth secrets. In the final round, all three players would attempt to identify one final secret, called the "Blind Item" which was worth $1,500.
In the final round, no stars were able to guess who they thought was the person who had the secret.
The player with the most money at the end of the game was the winner and received a bonus prize while the other two contestants got to keep whatever money they earned, with a guaranteed $100 minimum, and also received parting gifts.
In the final segment and during the end credits, Bob Eubanks would sometimes bring in someone that was related to a secret one of the celebrities had or bring in an item mentioned by a celebrity during the game.
Ad blocker interference detected!
Wikia is a free-to-use site that makes money from advertising. We have a modified experience for viewers using ad blockers

Wikia is not accessible if you've made further modifications. Remove the custom ad blocker rule(s) and the page will load as expected.