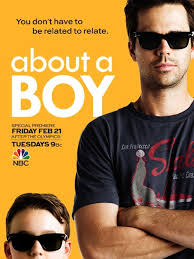 About a Boy is an American television series that aired midseason on NBC as part of the 2013–14 United States network television schedule. The single-camera comedy is based on a novel of the same name by Nick Hornby and developed for television by Jason Katims.
On January 10, 2014, NBC announced the show would premiere following the 2014 Olympics on Friday, February 21, 2014 at 10:30 PM EST (later revised by the network to Saturday, February 22 at 11:00 PM EST). It will then premiere on its regular timeslot on Tuesday, February 25, 2014 9:00 PM EST following The Voice.
David Walton as Will
Minnie Driver as Fiona
Benjamin Stockham as Marcus
Al Madrigal as Andy
Annie Mumolo as Laurie
Ad blocker interference detected!
Wikia is a free-to-use site that makes money from advertising. We have a modified experience for viewers using ad blockers

Wikia is not accessible if you've made further modifications. Remove the custom ad blocker rule(s) and the page will load as expected.