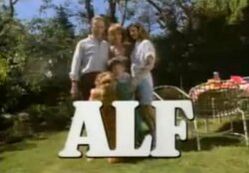 ALF was an NBC network science-fiction sitcom created by Paul Fusco (who also provided the voice of the main character) and Tom Patchett which premiered on September 22, 1986.
It became the first TV series to be presented in Dolby Surround. The cast consisted of Max Wright, Anne Schedeen, Andrea Elson and Benji Gregory.
The show spawned two animated series: "ALF: The Animated Series" and "ALF Tales."
On June 18, 1990, "ALF" was cancelled after four seasons and 102 episodes (this includes three one-hour episodes which were divided into two parts for syndication).
Ad blocker interference detected!
Wikia is a free-to-use site that makes money from advertising. We have a modified experience for viewers using ad blockers

Wikia is not accessible if you've made further modifications. Remove the custom ad blocker rule(s) and the page will load as expected.